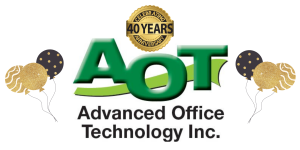 Brewster Chamber has had the pleasure of witnessing longtime member, Advanced Office Technology, grow and evolve over the past 40 years. From humble beginnings to becoming a local leader in the industry, this family-owned and operated business has always put its customers first.
Their commitment to customer service excellence is evident in everything they do. From their A1+ certification with the Better Business Bureau to their 24/7 technical expertise, they have always gone above and beyond to ensure that their customers are satisfied. But what truly sets them apart is their team of happy and loyal employees. It's clear that everyone who works at Advanced Office Technology is passionate about what they do and genuinely cares about their customers.
And it's not just about business for Advanced Office Technology. They have a strong sense of values and a spirit of giving back to the communities they serve. Their commitment to exceeding customer expectations extends beyond the products and services they offer. They truly care about making a difference in people's lives.
Speaking of products and services, Advanced Office Technology is a licensed Kyocera dealer that sells, leases, and services copiers, scanners, HP printers, Canon wide format printers, and mailing equipment. They offer a wide variety of options to fit every business's needs. And with Sal Altavilla, the original founder, still at the helm, you can be sure that they have a wealth of experience and expertise to draw from.
Whether you're in Brewster, the Hudson Valley, or anywhere in the USA, Advanced Office Technology is a name you can trust. They have built their reputation on hard work, dedication, and a commitment to excellence. Congratulations on 40 years in business, and here's to many more!
Sponsored by Advanced Office Technology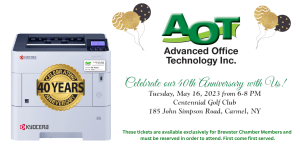 Brewster Chamber Members, join us to celebrate our 40th Anniversary on May 16th, 2023 at Centennial Grille Room. Click HERE for your free ticket. No admittance without ticket. First come, first serve.