Date/Time
Date(s) - 06/26/2021
10:00 am - 3:00 pm
Location
Pegasus Farm
Category(ies)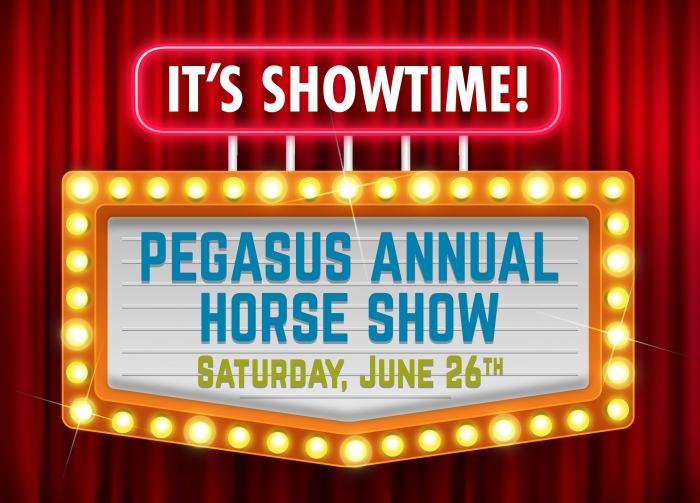 The 39th Annual Pegasus Horse Show
Building on the success of last year's drive-thru Horse Show we have something very special planned! The Annual Horse Show provides a wonderful opportunity for our riders with specials needs to celebrate their accomplishments with family and friends in a unique, nurturing and supportive environment. Not only will participants compete in the riding portion of the Horse Show but they will have the opportunity to participate in some very and engaging activities afterward. Each student will earn a show ribbon for accomplishing a particular horsemanship skill exceptionally well.
This event is guaranteed to be full of fun activities, arts, music, grooming, games, visits from some new four-legged friends (you'll have to wait and see who our special guests are).
And of course, there will be ice cream and other treats along the way!
Interested in volunteering at this year's event: Stay tuned!

To speak with us regarding sponsorships or a donation in honor of our participants, contact Director of Development Candice Sciarrillo at [email protected] or (845) 669-8235 x110.  Click here to learn about Sponsorship Opportunities  
Your participation as a Pegasus Horse Show sponsor not only lets our friends in Westchester, Putnam, Dutchess and Fairfield counties know you are committed to our mission, it also supports essential programs for our very exceptional participants! Your support means a child can develop fine motor control, become more engaged, develop verbal skills, and gain core strength. It means adults can master independent living skills, veterans can learn to overcome PTSD and frontline workers can find a renewed sense of well-being and empowerment.
We hope you will join us in celebrating the accomplishments of our incredible participants.