Date/Time
Date(s) - 09/16/2023
2:00 pm - 5:00 pm
Location
Studio Around the Corner
Category(ies)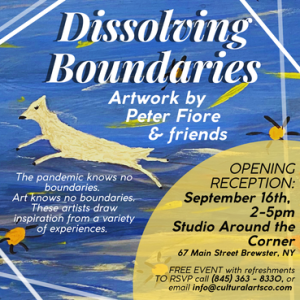 September 16, 2-5 PM
Dissolving Boundaries is a group art exhibit resulting from the pandemic, which, like art, has no boundaries. The exhibit pairs words with mixed media works by local artists Peter Fiore, Phoebe Hawkins, Joshua 2, Ken Dinkel, Alexis Menken, Lee Mintzer, Carole Steinberg, Marilyn Morgan, Judy Schreiber, Howard Menken, Paul Fiore and Jacqueline Rada.
The public is invited to the opening reception on Saturday, September 16, 2023 from 2:00 to 5:00 PM at the Studio Around the Corner, 67 Main Street, Brewster, NY 10509. Several of the artists will discuss their work and refreshments will be served.
The exhibit will remain open to the public on Saturdays from 12:00 PM to 2:00 PM through January 6, 2024, at the Studio Around the Corner.
Admission is free.